Benjamin Harrison V     1726-1791
The Harrison family is a prominent political family in U.S. history. Among the First Families of Virginia , they came to the Colony of Virginia in 1630  when Benjamin Harrison (the first of many to bear that name) left England for the Americas
His son, Benjamin Harrison Jr., begat Benjamin Harrison III, who begat Colonel Benjamin Harrison IV in 1693. His son is known in modern times as Benjamin Harrison V, and was a signer of the Declaration of Independence. For the next two centuries the Harrisons would play some role in American political history.
Most famously, the Harrison family produced numerous Governors of Virginia (serving during both the Colonial era and after independence), as well as two U.S. Presidents; William Henry Harrison and Benjamin Harrison.
The family has a longer recorded heritage in politics, however. Their earliest notable ancestor is the thirteenth century Baron Robert II de Holland, also an ancestor to James Madison, Thomas Jefferson, George Washington, Ulysses S. Grant , and Winston Churchill.
Representing Virginia at the Continental Congress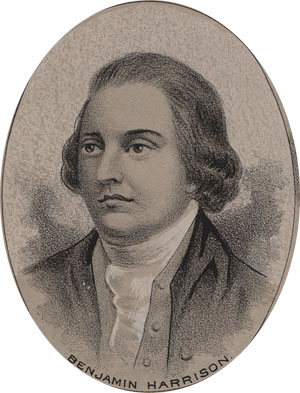 by Ole Erekson, Engraver, c1876, Library of Congress
| | |
| --- | --- |
| Born: | April 5, 1726 |
| Birthplace: | Berkeley, Va. |
| Education: | Attended William and Mary College (Farmer, Politician) |
| Work: | Elected to Virginia House of Burgesses, 1764; Member of the Continental Congress, 1774-77; Reelected to House of Burgesses, 1777, Selected as Speaker, 1778; Elected Governor of Virginia, 1782-84, 1791. |
| Died: | April 24, 1791 |
Benjamin Harrison was born in Berkeley Virginia in 1726. He attended William and Mary College in Williamsburg, but was unable to complete his studies due to the sudden death of his father and two sisters in a lightening strike. He was elected to the House of Burgesses at the age of 38. In 1764, when the House defied the Royal Governor and passed the Stamp Act Resolutions, the Governor tried to bribe Harrison with an appointment to the executive council. He refused the appointment and instead declared a devotion to republican principles. Elected to the Continental Congress in 1774, he was one of a party of representatives who, the following year, attended General Washington in Cambridge to plan the future of the American Army.
In 1777 he returned to Virginia to a seat in the House of Burgesses and also to serve as a lieutenant in his county militia. He was chosen Speaker of the House in 1778, and elected Governor of the State of Virginia in 1782. He retired from the Governor's office after five years service. Harrison suffered with gout during his later years. He died in 1791 at the age of 65.
His son, William Henry Harrison, was elected ninth President of the United States
Ref.  http://www.noyesgenealogy.net/getperson.php?personID=I18396&tree=noyes
Ref. Harriette Eliza Noyes Genealogist.
President William Henry Harrison- 9th President
Son of Bengamin Harrison Sr.
William Henry Harrison, (1773-1841), 9th President of the United States. The oldest president up to that time, to be inaugurated, he was also the first to die in office, surviving only one month. Harrison's Indian fighting and treaty making had secured the Old Northwest for American settlement and established the reputation that led him to the White House. He was the first presidential candidate to campaign actively for office. The "Log Cabin Campaign" of 1840, in which Harrison, a Whig, was pitted against the Democratic incumbent Martin Van Buren, was a spectacle of slogan and slander.
Early Life
Born at Berkeley plantation on the James River in Charles City county, Va., on Feb. 9, 1773, Harrison considered himself a "child of the Revolution." The youngest son of Benjamin Harrison, a signer of the Declaration of Independence, he was privately tutored and acquired sufficient knowledge of grammar and classics to meet entrance requirements at Hampden-Sydney College in the late 1780's. Although he never completed the course, he claimed proficiency "in belles lettres information & particularly in history."
Military Service
After an interval of studying medicine in Richmond and Philadelphia in 1790 and 1791, Harrison decided on a military career, and on Aug. 16, 1791, he was commissioned an ensign in the First Regiment of Infantry. Although only 18, he recruited a company of 80 men, who were persuaded to hazard their lives fighting Indians in the western wilderness for $2 a month. Leaving Philadelphia in September 1791, the young ensign marched his recruits over the Allegheny Mountains to Fort Pitt (Pittsburgh), where they took boats down the Ohio River to Fort Washington (Cincinnati).
Harrison remained in the Army until May 31, 1798, rising to the rank of captain. As aide-de-camp to Gen. Anthony Wayne, he was cited for bravery at the Battle of Fallen Timbers on Aug. 20, 1794, and the following year he witnessed and signed the Treaty of Greenville. He then was ordered to Fort Washington, where he served for a time as commandant.
Marriage and Family
On Nov. 22, 1795, Harrison married Anna Symmes, daughter of Judge John Cleves Symmes, a speculator with a patent for a vast acreage of Ohio land. The judge apparently withheld his blessing, claiming later that his daughter had "made rather a run away match of it." The young captain, the judge complained, "can neither bleed, plead, nor preach, and if he could plow I should be satisfied." Over the next 19 years the couple had 10 children, one of whom, John Scott Harrison, became the father of Benjamin Harrison, the 23d president.
In the Northwest Territory
After resigning from the Army, Harrison moved his family from Fort Washington 14 miles (22.5 km) down the Ohio River to North Bend, where he bought 160 acres (65 hectares) for $450. On June 28, 1798, President John Adams appointed him secretary of the Northwest Territory, and the following year the territorial legislature elected him its delegate to Congress by a vote of 11 to 10. Harrison vigorously supported Western interests in the House. His Land Act of 1800 provided for the purchase of small tracts with liberal credit, thus freeing settlers from dependence on land speculators.
Governor of Indiana Territory
When the Northwest Territory was divided in 1800, President Adams appointed Harrison governor of the Indiana Territory. He moved his family to Vincennes, the territorial capital, and built Grouseland, a mansion similar to his birthplace. Here on the Wabash River he spent the most satisfying years of his life, serving as governor from January 1801 until December 1812.
Political dexterity enabled him to manage appointments from both the Federalist John Adams and the Republican Thomas Jefferson. His supporters, called "Virginia aristocrats" by their enemies, hoped to build a plantation society, a course that would have required repeal of the antislavery provisions of the Northwest Ordinance of 1787. The register of the land office, John Badollet, one of Harrison's principal opponents, denounced him as a "proconsul" and "unrelenting tyrant," who attempted to introduce "his darling and never abandoned plan of slavery."
In a series of Indian treaties Harrison opened a huge new area for settlement. By the Treaty of Fort Wayne (1809) the Delaware, Miami, Potawatomi, and Eel Indians ceded approximately 3 million acres (1.2 million hectares) in return for annuities ranging from $200 to $500 to each tribe.
Tippecanoe
Continued settlement, however, invited Indian hostility. Encouraged by the British, the northwestern tribes rallied behind the Shawnee warriors Tecumseh and his brother, the Prophet, to halt the invasion of their hunting grounds. A dramatic confrontation between Harrison and the brothers at Grouseland in August 1810 failed to reconcile conflicting
Indian and American interests.
At dawn on Nov. 7, 1811, at Tippecanoe Creek, Harrison's army of 800 men was surprised by Indians under the command of the Prophet. The Americans suffered casualties of 61 dead and 127 wounded, but they managed to drive off the Indians and then went on to destroy the deserted Prophet's Town nearby. Later, the Indian confederation regrouped under Tecumseh and fought on the side of the British during the War of 1812. Harrison was both praised and condemned for his performance at Tippecanoe, but the battle was to be used to political advantage by "Old Tip."
The Thames
In August 1812, following the declaration of war against Britain and William Hull's surrender of Detroit, Harrison was appointed brigadier general in charge of the Northwestern Army, and the following spring he was promoted to major general. Demonstrating a concern for logistics acquired during his apprenticeship under Wayne, Harrison fortified Fort Meigs at the Maumee Rapids southwest of Detroit and staunchly withstood two sieges by the British and Indians. After Lake Erie was cleared of the British by Capt. Oliver Hazard Perry, Harrison recaptured Detroit and pursued the enemy into Canada. On Oct. 5, 1813, his forces decisively defeated the British and Indians at Moravian Town on the Thames River. Tecumseh was killed, and the British commander, Gen. Henry Proctor, fled. Harrison's campaign ended the hostile Indian confederation and secured the northwestern border.
Entry into Politics
Resigning his commission on May 31, 1814, Harrison returned to North Bend to oversee his farm and settle the tangled financial estate of his father-in-law. He became a vestryman of Christ Episcopal Church in Cincinnati and a trustee of Cincinnati College. From 1816 to 1819 he represented his district in Congress. Failing to be appointed minister to Russia in 1819, he ran for the Ohio state Senate and served one term (1819-1821). After a series of unsuccessful attempts to obtain the Ohio governorship and seats in both houses of Congress, he was elected to the U.S. Senate in 1825. He served three years and was chairman of the committee on military affairs and the militia.According to John Quincy Adams, he displayed "a lively and active, but shallow mind."
Colombian Interlude
In 1828, as a supporter of the Adams administration, Harrison was rewarded with an
appointment as minister to Colombia. Reaching Bogotá in February 1829, he was recalled a month later by Adams' successor, Andrew Jackson, but continued to function as minister until his replacement arrived in September. His stern republicanism, however, proved uncongenial to the prevailing Colombian government headed by Gen. Simón Bolívar. Once relieved of office, Harrison wrote a patronizing letter to Bolívar, declaring that "the strongest of all government is that which is most free." This epigram aroused controversy in Colombia but proved to be useful in Harrison's later political career.
The Campaign Trail
The Jacksonian era was one of adversity for Harrison. A persistent office seeker, he found himself obliged in 1834 to accept a position as clerk of the court of common pleas in Hamilton county, Ohio, in order to cope with financial troubles. Having aspirations for the presidency, he promoted his candidacy by tours of Indiana and Illinois during the summer of 1835. Anniversary celebrations of the battles of Tippecanoe and the Thames glorified his military career, friendly editors publicized his political availability, and local Whig conventions in Pennsylvania, Maryland, Kentucky, and Indiana pledged their support.
When friends of Daniel Webster suggested Harrison as a Whig running mate, Old Tip proclaimed that he would not run for Vice President "on that ticket or any other." During
the summer of 1836 he broke with tradition and openly campaigned at rallies throughout the country. Because the Whigs could not agree on a candidate, their vote was divided among Harrison, Webster, and Hugh L. White. Harrison, nevertheless, carried 7 states, losing to Democrat Van Buren by an Electoral vote of 170 to 73.
The Log Cabin Campaign
For the next four years Harrison waged "a campaign by continuation," cultivating the support of war veterans and of Whig and Anti-Masonic party leaders. At the national Whig convention in Harrisburg in December 1839, his delegates rejected their acknowledged leaders, Webster and Henry Clay, and nominated Harrison. The only "ability" they sought, said Sen. Thomas Hart Benton of Missouri, was "availability." No platform was adopted, and advisers told Old Tip to keep his lips "hermetically sealed" on the issues of slavery, the tariff, and the U. S. Bank. To gain support in the South, the Whigs nominated John Tyler, a former senator from Virginia, for the vice presidency. Northern and Southern Whigs were urged to rally behind "Tippecanoe and Tyler, Too."
At their convention in Baltimore in May 1840, the Democrats renominated President Van Buren. Hard times following the Panic of 1837 made Democratic prospects gloomy. The Liberty party nominated James G. Birney.
Democratic campaigners wept crocodile tears for Clay and ridiculed Old Tip, now past 67, as "Granny," belittling his military record and accusing him of senility. "Give him a barrel of hard cider, and settle a pension of $2,000 a year on him," advised one reporter, "and … he will sit the remainder of his days in his log cabin … and study moral philosophy."
Whig editors exploited this tactless observation by proclaiming Harrison "the log-cabin and hard-cider candidate." Van Buren was unfairly stereotyped as a dandy who preened himself before huge mirrors in the presidential palace. Whig rhymsters dramatized the contrast:Let Van from his coolers of silver drink wine And lounge on his cushioned settee, Our man on a buckeye bench can recline, Content with hard cider is he. Once again Harrison conducted a vigorous campaign, delivering at least 23 speeches ranging from one to three hours in length. Partisans measured the size of his rallies by acres, and John Quincy Adams noted a state of political agitation "never before witnessed."
The irrational campaign brought out an unprecedented vote of 2,400, 000–a 50% increase over that of 1836. Harrison carried 19 of the 26 states, winning an electoral total of 234 to Van Buren's 60, although his popular majority was less than 150,000. Tolling the knell of Jacksonianism, Horace Greeley hoped for an end to "official insolence and unblushing corruption."
On March 4, 1841, in one of the longest inaugural addresses ever delivered, Harrison promised not to run for a second term–a promise that proved to be unnecessary. Harassed and fatigued by the demands of office seekers, he accomplished little during his one month in the presidency. Having contracted pneumonia in late March, he died in Washington, D.C., on April 4, 1841.
http://www.noyesgenealogy.net/getperson.php?personID=I37932&tree=noyes
Daniel Boone Yep!  That one. (I remember watching the old 60's show!)
http://www.noyesgenealogy.net/getperson.php?personID=I70206&tree=noyes
Harriette Eliza Noyes- Genealogist First NH Teacher
A memorial of the town of Hampstead, New Hampshire. Historic and genealogic sketches. Proceedings of the centennial celebration, July 4, 1849. Proceedings of the 150th anniversary of the town's incorporation, July 4, 1899. Comp. by Harriette Eliza Noyes. "Aunt Hatti" was her affectionate name by my mother –was named after her and it is said that Ms. Noyes had a particular  liking to my mother and because of that, my grand father Carl Noyes was presented with the original Continuous Noyes Genealogy hand written leather bound book through Brig. General  Henry Erastus Noyes presented to my GG Grand Father Issac Noyes and the book was passed on through the generations to me.  Providence dictates that the Noyes legacy continues infinitely.
Brigadier General Henry E. Noyes- Genealogist
Col. Henry E. Noyes, U.S.A. and Miss Harriette E. Noyes, Genealogical Record of Some of The Noyes Descendants of James, Nicholas and Peter Noyes. Vol. I, Descendants of Nicholas Noyes (Boston, Massachusetts; 1904)
Genealogical record of some of the Noyes descendants of James Nicholas and Peter Noyes (Volume 2)
Rev. James Noyes one of the founders (7), Senior Fellow Yale University
The founding of Yale University in New Haven, Connecticut: Rev. James Noyes of Stonington, CT, the second son of the first Rev. James Noyes, was one of the seven founding ministers. The Noyes name is carved over Woodbridge Hall, the Administration Building, to the right of the entrance. Rev. James Noyes was first Senior Fellow (Chairman) of the Board of Trustees and his brother (My Mothers G. Uncle) Moses Noyes also was an early member of the Board.
Joeseph Noyes – My GGGG Grandfather  1732 – 1807
He moved to Plaistow, N.H. in 1741 and in 1762 he bought the farm in Hampstead, N.H. which was still owned by his descendants in 1904, but the Noyes home (the "old red house") was destroyed by fire in 1897. Joseph Noyes served Revolutionary War in the expedition against Crown Point. He also served as a private in Capt. Jesse Page's company of volunteers from Atkinson, in Col. Jacob Gale's regiment, which joined the Continental army in Rhode Island in August, 1778. Was in the battle at Bunker Hill.
Dr. Surgeon Rufus Noyes- Author founder Materialist Movement
Views of Religion, collected by Rufus K. Noyes, M.D. [following: a complex, round figure, symbolizing universes and nature, with the word NATURE, at the top], published by L.K. Washburn, Boston, Mass. 1906 . My mother Harriette spent the summers, along with one of her sistors at a stately manor outside Boston. "Uncle Rufus" was said to be a kind man, but not very interested in children.
Captain John Cutting- 13 or more Atlantic Crossings
A sea captain, Cutting made 13 or more Atlantic crossings; in 1634 he was master of the Francis, which brought colonists from Ipswich. In 1636 he took up land at Watertown, in 1638 had a house at Newbury, in 1648 settled at Charlestown, and by 1656 was again living at Newbury. He was in 1647 master of the Advent of Boston. His will (22 Oct. 1659, 27 Mar. 1660) names his daughter Mary Noyes and grandson Cutting.
Isaac NOYES3 was born on 19 Jun 1763 in Boscawen, Merrimack, New Hampshire.4 He resided in 1796 in Newport, Sullivan, New Hampshire.5 He died on 9 Apr 1841.6 Credited with Revolutionary War service at West Point, N.Y., 1781.
General Jacob BAILEY\ BAYLEY Sr
He was born on 19 Jul 1726 in West Newbury, Essex, Massachusetts. He died on 1 Mar 1815 in Newbury, Essex, Massachusetts. He was also known as Jacob Bailey. Jacob Bayley, (1726-1815), who had served in the early wars, was appointed brigadier general of militia, 1776. He was a member of the Committee of Safety and of the first Governor's Council of Vermont. He was born in Newbury, Mass., and died in Newbury, Vt. His son Jacob acted as scout and served through the war.
Noyes, John. Representative in Congress 1815-'17, and for years one of the leading business men of the southeast part of the state. He was born at Atkinson, N. H., a descendant of one of the early settlers of Massachusetts, and of an unusually learned and scholarly family. He was graduated at Dartmouth in 1795, and became a tutor there, and had among his pupils Daniel Webster, who in after life admitted his debt intellectually to the tutor. Mr. Noyes engaged in theological study and fitted himself for the ministry, but gave it up because of ill-health and returned to teaching, had  charge of the Chesterfield, N. H., Academy for a time, and in 1800 moved to Brattleboro to engage in mercantile trade with General Mann, the grandfather of the wife of Gen. George B. McClellan. There were several famous connections through the firm of Noyes & Mann. A partner of one of its branches, at Wilmington, was Rutherford, father of President Rutherford B. Hayes. Mr. Noyes' oldest son was John H. Noyes, founder of the Oneida, N. Y., Perfectionist community, which had its first start at Putney. His eldest daughter was Mrs. L. G. Mead, mother of the famous sculptor of that name.
Nicholas Noyes Salem Mass, Co-Pastor Church of Salem
Harvard Graduate
Infamous but repented (witch trials) Son of De Nicholas Noyes
Nicholas Noyes was a colonial minister in Salem, Massachusetts during the time of the Salem witch trials. He was the second minister, called the "Teacher", to Rev. John Higginson. During the Salem witch trials, Noyes acted as the official minister of the trials.
Noyes spent time as the chaplain with troops in Connecticut during King Philip's War in 1675-76.
Before the execution of Sarah Good on July 19, 1692, Rev. Noyes asked her to confess. Her famous last words were, "You are a liar! I am no more a witch than you are a wizard, and if you take away my life God will give you blood to drink." Ironically, twenty-five years later, Noyes died of a hemorrhage and literally did choke on his own blood.
On September 22, 1692, Rev. Nicholas Noyes officiated as clergyman at the final hangings of the those accused of witchcraft. It is reported that he turned toward the suspended bodies of the victims and said, "What a sad thing it is to see eight firebrands of hell hanging there."
Later in life Rev. Noyes repented of his part in the witchcraft persecutions and did what he could to assist the dependent families.